Proton Development Suite v3.5.2.7




Proton Development Suite combines the Proton Plus Compiler with a brand new IDE and Virtual Simulation Environment, creating a PIC® microcontroller BASIC development environment suitable for both hobbyists and professionals. The Proton Development Suite is the result of a collaboration between three British companies that lead their field, Crownhill Associates, Mecanique and Labcenter.
Suitable for all levels of user, from outright beginner to seasoned professionals writing commercial applications, the Proton Development Suite will allow you to develop your code in a brand new IDE, then compile your BASIC program and view the resulting assembly language commented with your own code!

1. Write your BASIC code in the Proton IDE
2. Compile your code with the click of a button
3. Then test your code with the Virtual Simulator, or upload the code to your PIC® microcontrollers using the IDE's programmer integration.




What's Included?

Proton IDE
Developed by Mecanique, the new IDE makes development using Proton even faster and more intuitive than ever before. Producing efficient code from a high-level language has never been easier.
Read More...

Proton Plus Compiler
Version 3.1 of the Proton Plus compiler has been enhanced to support even more PIC® microcontrollers and includes many new features and commands.
Read More...

ISIS Virtual Simulation
Simulate your code in real–time with the integrated ISIS Simulation software from Labcenter, featuring Virtual Proton Development Boards. Includes step by step code execution for source-level debugging.

ChangeLog:

Added I2C peripheral pins to ppi file for 12F1840.
Corrected RAM locations within ppi file for 16LF1938.
Corrected the Clear and Set commands for enhanced 14-bit core devices.
Corrected no error when an operand was missing in an If-Then condition.
Corrected interrupt vector address with standard 14-bit core devices.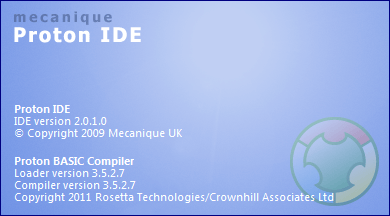 PLATFORM: Windows XP/Vista/ 7 (32-bit)
FILES : 45.3mb
COMPRESS: WinRar - Added Recovery Record
LANGUAGE: English
FIX : Crack