3DMark 11 Pro v1.0.2 MultiLingual -CORE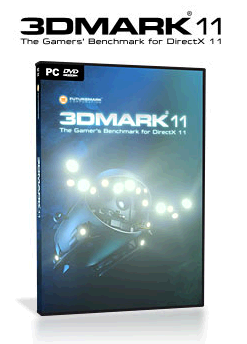 3DMark 11 is the latest version of the world's most popular benchmark. Designed to measure your PC's gaming performance 3DMark 11 makes extensive use of all the new features in DirectX 11 including tessellation, compute shaders and multi-threading. Trusted by gamers worldwide to give accurate and unbiased results, 3DMark 11 is the best way to consistently and reliably test DirectX 11 under game-like loads. Benchmark presets offer a convenient way of scaling the benchmark load to provide relevant results for all levels of hardware. These pre-selected combinations of settings represent successively more advanced levels of visual quality. When running 3DMark 11 with one of the presets selected, the benchmark produces a score for that preset. The 3DMark score is calculated differently for each preset which means that scores are not comparable across different presets.

Minimum requirements:

3DMark 11 requires DirectX 11, a DirectX 11 compatible video card, and Windows Vista or Windows 7.

We recommend 3DMark Vantage for benchmarking DirectX 10 and 3DMark06 for benchmarking DirectX 9.




ChangeLog:

All Editions
Bullet physics library updated to 2.78 to improve compatibility with future CPUs and GPUs
Display scaling mode setting is now available in the Basic Edition
SystemInfo component updated to version 4.0 for improved compatibility with current and future hardware
Improved user messages when the benchmark run is interrupted.

Advanced and Profession Edition only
Fixed wireframe mode for the Combined test with NVIDIA hardware
Load/Save result dialog remembers the last used folder.

Professional Edition only
Correct watermark is always displayed when benchmark is launched from command line
Command line loop switch with single test now loops without reloading.


PLATFORM: Windows
FILES : 293mb
COMPRESS: WinRar - Added Recovery Record
LANGUAGE: Multi
FIX : KeyMaker or Serial