Susteen DataPilot v5.6.2 MultiLingual Incl Serial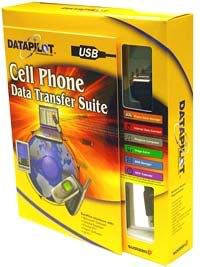 DataPilot is an advanced cell phone sync software solution that allows end-users
to manage their contact information, access the Internet and check e-mails while
on the go, personalize their cell phone with ring tones and images and stay in sync
with their appointments in Outlook or Outlook Express. It supports over 400
different handsets in the market, including the most popular ones.
Backup, Edit and Sync Your Cell Phone Contacts and Schedule
with Popular PIMs

* Backup your cell phone address book in case
you lose, break, damage, or change your handset
* Keep your cell phonebook in sync with your Outlook,
Outlook Express, and Palm Desktop contacts
* Stay on top of your business schedule with easy sync of
your cell phone calendar with your Outlook appointments
* Edit your cell phone address book and calendar using your
computer's keyboard


Stay Connected to the Internet Anywhere

* Dial up to the Internet using your cell phone as a wireless modem
* Check emails and surf the web to access important
on-line information anytime anywhere


Personalize Your Cell Phone with One-of-a-kind Ringtones and Pictures

* Transfer your MP3 and MIDI files stored on your computer to your
cell phone FREE via data cables
* Download and upload wallpapers, pictures and movies and avoid expensive
over-the-air MMS charges


Why DataPilot?

* DataPilot is one central location for your cell phone, your personal
information manager (PIM), and your PDA's address book that you can
carry anytime, anywhere.
* No more hassle punching in all those numbers!
Now you can conveniently add, edit and
delete cell phone numbers from your computer
with easy sync to your cell phone
* Lost your cell phone and all of your contacts are gone?
DataPilot backs up all your contact information so that
you could easily retrieve it if needed.
* Thought about upgrading your cell phone but you don't want to re-type all
your numbers by hand? DataPilot transfers your contact data from one
cell phone to the next with just one click.
* Always late at your appointments? Stay in sync with your schedule in Outlook
or make your own calendar using your computer's keyboard and sync it back
to your cell phone.
* On the road and still working? Set your cell phone as a wireless modem and
check e-mail and surf the web while away from the office
* Guess who's calling? DataPilot transfers your favorite ring tones and
pictures to your cell phone so you can assign a different sound and picture
for any contact in your address book. Now you know who is calling!
* No way to retrieve the pictures you've taken with your camera phone? For
select models, DataPilot enables you to transfer your pictures to the cell
phone FREE via data cable. Once on your PC, you can edit and send them by
e-mail to your family, friends or colleagues.


Requirements
DataPilot Software Requirements

* Micro$oft Windows Windows 2000, XP, Vista & 7
* Pentium 100 MHz or higher CPU
* 32MB minimum RAM
* 15MB of free HDD space
* 800x600 or higher resolution, 256 colors or higher
* USB or Serial port
* CD-ROM drive

** You have to have an administrator account to run data pilot.

A. 1. Click the Start Button > Run > Regedit > open HKEY Classes Root > locate the the .KKV folder > right click go to permissions > Make sure everything is allowed and full control for all users and administrators. You can now open Data Pilot.





PLATFORM: Windows
FILES : 89.8mb
COMPRESS: WinRar - Added Recovery Record
LANGUAGE: Eng, Fra, Deu, Ita, Esp
FIX : Serial