Digital Juice Font Collection 1 [3 DVD]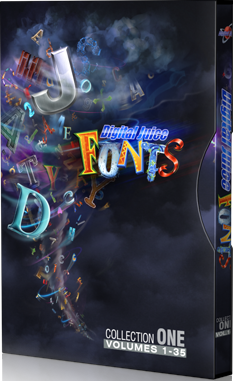 Digital Juice Fonts, Collection One is the culmination of more than fifty man-years of artistic and programming effort on the part of our Digital Juice development teams. It is also the harbinger of a whole new level of customization in the Digital Juice product arsenal.
Each DJ Font Family in this collection is the result of hundreds of hours of painstaking detail work by our illustrators. This effort, in tandem with the endless hours put in by our programming team has provided you with a product more customizable, more powerful, more useful, and more fun than any product we've ever released.
Collection One in the DJ Fonts product line contains 35 unique DJ Font Families, over 1300 ready-to-use Standard DJ Fonts, over 200 Font Textures, more than 20 Bitstream OpenType fonts, and an unlimited number of possibilites to customize and make your own DJ Fonts.




What makes DJ Fonts so powerful (and so much fun) is the flexibility that comes from customizing the fonts. Since every DJ Font Family comes is broken into 5 to 12 layers you can easily turn on and off layers, as well as add powerful effects to each layer right within the Juicer (included free).
If customizing sounds "scary" or hard, have no fear! It's easier than you think and we're putting up new training videos weekly to show exactly how to get the most out of DJ Fonts in your productions.
The best part is that once you start customizing your DJ Fonts you can share them with other DJ Fonts users, and better still you can download and use their custom DJ Fonts in your projects! So even if you don't want to dip your toes into customizing you'll be able to take advantage of the collective talents of all DJ Font users.

Rendering is where the application takes all your final DJ Font settings and text layout and processes all the layers, effects, textures, sizes, etc. It then saves out a final graphic file (PNG, Jpeg, Photoshop Layered format, BMP, TIF) that can be used in any presentation, animation, print, web, or graphic application.

Install NFO:

1. Unrar, burn or mount.
2. Generate valid data with keygen dvd1\crack\keygen.exe
2. Install fonts with the generated data
3. JD!

Added KeyGen for-:
Digital Juice Editors Toolbox
Digital Juicer 3

**** Always remember to block applications (or go off line) from calling home 'during install'.
Once installed, disable 'check for automatic updates' option if available, so that you don't get it blacklisted......Unless stated otherwise.

PLATFORM: Windows XP SP 2 or above
COMPRESS: WinRar
LANGUAGE: English
FIX : KeyGen

HomePage:-